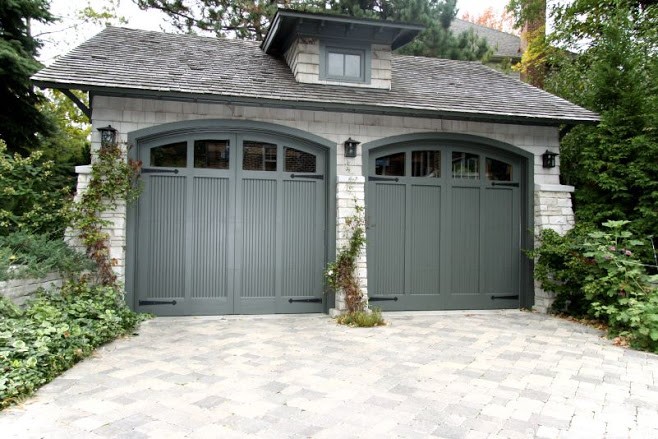 While steel garage doors are the most common type of garage doors, wood garage doors are also very popular. Here's some information about garage doors made with wood.
Wood Adds Warmth to Homes
A wooden garage door adds warmth and class to a home. The interesting grain of the wood, rich finish, and matching hardware of a wood garage door help boost the look of cottage, contemporary, Colonial, and Shaker architecture styles.
Steel doors often look cold or out of place, especially on an older home. Wood was the original material used to make garage doors, so a wooden garage door restores an older home's warm, homey look. To mimic older styles of garage doors to match an older home, you may need to order wood garage doors that are painted in colors to match the trim or siding of the home.
Warmer looks are achieved with stained wood garage doors that bring out the natural features of the wood grain. Stained wooden doors are more expensive than painted wood, but stained doors offer a pop of elegant design no painted door can really match.
Wood Doors Come in Several Styles
Conventional overhead doors are available in wood. The wood overhead garage doors operate the same as standard steel doors and can be used with a garage door opener just like a steel garage door.
Carriage-style wood garage doors open on hinges fastened to the side or sides of the door. Carriage doors may also be faux carriage doors that open overhead like standard garage doors. Swing-open doors add character to homes and don't require ceiling space in the garage.
Garage door openers are available for use with swinging and sliding carriage-style garage doors. The components of swinging and sliding garage door openers are slightly different than those used for overhead doors, but they're conveniently operated with a remote control device just like standard overhead garage door openers.
Wood Garage Doors Are Made of Various Types of Wood
A plywood garage door is the most inexpensive type of wood door available. The plywood may be painted or covered with a thin veneer of hardwood for a more upscale appearance. Plywood doors are not as thick as solid wood garage doors, so the plywood material may be insulated with a foam-core layer to offer thermal protection to your garage.
Cedar is a common garage door material since the wood offers excellent resistance to decay, insect infestation, and moisture issues. However, homeowners need to seal cedar garage doors every two years to retain the look of the cedar and protect the wood.
Redwood is another popular but expensive species of wood used for garage door construction. While redwood offers some rot resistance, the wood is prone to warping when exposed to moisture and hot temperatures. The redwood's warping issue is addressed by building the garage doors in thinner layers. Both cedar and redwood doors can be stained and painted as well.
Wood composite garage doors are strong like steel but look more like wood. These garage doors are made with recycled wood, so wood composite doors are also a sustainable choice. The wood composite garage door can be stained to look more like wood or painted to coordinate or match with a home's exterior.
Wood Garage Doors Come in Every Architectural Design
Choosing a wood garage door can be difficult because there are so many beautiful styles available. Wood garage doors can be constructed with long boards of wood, smaller rectangular sections of wood mounted in wood framing, or highly decorative, carved designs.
Wood garage doors come in contemporary minimalist styles that offer solid-looking, simple, lined sheets of impenetrable wood to enhance minimalist architecture. On the other end of the spectrum are wood garage doors with windows and detailing. Some wood garage doors can appear to be part of a wall rather than an entry to the garage.
Whether you want a rustic, castle-style, ranch-themed, cottage-type, or modern garage door, there's a wood door that meets your needs. You can also have a custom door created with your choice of wood, windows, and hardware.
Wood Garage Doors Have Drawbacks
The main argument against wood garage doors is their never-ending need for attention. You'll need to seal or paint your wood garage door every few years no matter what type or style of wood garage door you choose.
Wood garage doors don't have steel garage doors' resistance to fire. Wood garage doors are heavy doors, so they may not be the best choice if you don't have an automatic door opener. In addition, wood garage doors are more expensive than steel garage doors.
Choose the elegant, modern, or rustic wood garage door that's perfect for your Naperville or Aurora, Illinois home by contacting R & S Garage Door service today. We offer highly professional garage door services and lifetime warranties for our garage door products.